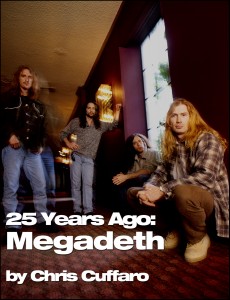 03.22.97 – Megadeth | Capitol Records
This was a great day with a great band.  I shot Megadeth for Capitol Records at The Ambassador Hotel.  This shoot was for publicity only.  Not my first shoot with the band so I knew it would be fun.  This was not my first shoot at The Ambassador Hotel.  
The hotel was iconic and shut down by this time.  It was a prime location in Los Angeles for TV, music videos and photo shoots.  What made it great was you could do anything you wanted and not worry about anything.  The rooms were empty, the pool was empty and the rest was an empty mess.
I shot in the lobby, kitchen and empty pool.  The band loved the location and the history that came with it.  Dave and the guys were so easy to work with.  Pretty much did what I asked.  The label and management was happy as well.  A good day and a great shoot.