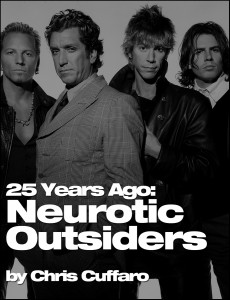 01.13.96 – Neurotic Outsiders | Maverick Records
This was one of my favorite shoots of all time for many reasons.  Mainly cuz the band was super fucking cool.  I did the shoot for Maverick Records publicity.  I was hired by the legendary Guy Oseary.  The band was Steve Jones, Duff McKagen, Matt Sorum & John Taylor!  We did the shoot at a studio in Seattle, WA.
They were up in Seattle doing shows when I flew up and did the shoot.  I kept it simple and let the guys be themselves.  They all had so much experience doing photo shoots and they made me look so good.  Steve was the best!  Matt so nice!  John super cool.  Duff was awesome!!!
The results hold up to this day!  I know the guys loved the results.  Steve used a couple photos in his book.  There isn't one bad photo.  SO fucking good in so many ways!!!  Thanks guys.