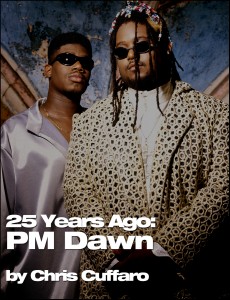 07.19.95 – PM Dawn | Island Records 
This shoot was a publicity shoot for Island Records.  I did the shoot in an old church in NYC.  Not sure where, but I do remember it being spooky!  I first met P.M. Dawn in New Jersey before the shoot.  Sat down with Prince Be & DJ Minutemix to talk about the plan for the shoot.  At this time they were managed by my good friend Michael Lippman at Lippman Entertainment.  
The shoot was interesting cuz of the church location.  I'm not a fan of churches of any kind.  It was dark and moody.  I tried to brighten things up with colored gels.  NOT a good idea looking at these photos now.  I have NO idea WTF I was thinking!!!  I so hate colored gels!  Forgive me if you see them in any of my photos from my past.  I was young and dumb.