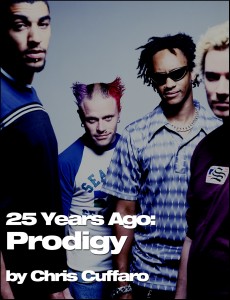 05.29.97 – Prodigy | CMJ Magazine
This was another good day and great shoot.  I shot Prodigy for CMJ Magazine here in Hollywood.  I did the shoot at the hotel they were staying at, the Belage Hotel in Hollywood.  We set up and shot in the Debussy conference room.  Basically one simple set-up that would fit in the room.
I shot the 3 members Keith Flint, Liam Howlett and Maxim.  I shot them together and separate.  I love my Polaroid 665 portraits most!  I remember they were very low key.  Even though Keith had his look, he was pretty mellow.  At the time Fire Starter was a big hit!  A crazy great song that I actually likes.