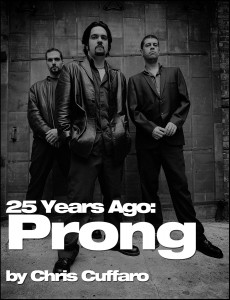 11.03.95 – Prong | Sony Ent.
This was another one of those shoots… GREAT guys, had no idea who they were and got great shots!  Prong was shot for Sony Entertainment for publicity.  Did the shoot downtown Los Angeles at some grungy studio.  Also shot outside.  What I loved about this shoot was the guys looked great!  Lead singer Tommy Victor was beyond cool and looked great.  They just had that super cool vibe going on and I just had to capture it.
I did not know their music much, but after the shoot I did check them out.  Not my kind of music, but I still loved the guys.  I like any band that is true to themselves.  I remember the label asking me if I wanted to go to a show and shoot them live.  I was like… no thanks!  I couldn't imagine me shooting a show like theirs.  By that time I was pretty much over shooting shows.