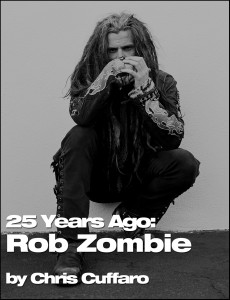 07.31.98 | Rob Zombie | CMJ Magazine
My second shoot with Rob Zombie for CMJ Magazine was at his home in the West Hollywood hills.  The shoot was for the cover and we did most of the shoot outside his home.  I kept it simple as always.  Rob is one the nicest guys around and an easy subject.  He doesn't take a bad photo.  He is fucking Rob Zombie and just looks great.
I brought my duvateen as always and we used it as always.  I tell every photographer to have a 12×12 duvateen in their car cuz it comes in handy so many times.  We just hung it up in front of his garage.  It was simple and got me what I needed.  In the end, Rob was great and I got what I needed.  CMJ was happy and the cover looked great!  ALL good.