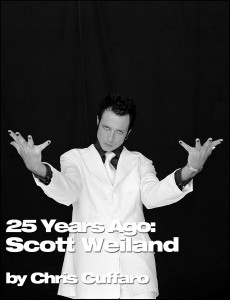 01.15.98 | Scott Weiland | Black Book Magazine
A great day for sure!  I shot Scot Weiland at Smash Box Studios in Culver City for Black Book Magazine.  We shot on the Stage for the night.  He showed up at 5pm with his mom and nurse.  Yes, his mom and nurse.  He had just gotten out of rehab and needed the support.  This was my second shoot with Scott. He was in a great mood, but I could see he was a bit fragile and tired.
We did 3 simple setups as always.  Black and white backgrounds.  The big thing I did was shoot 8×10 Polaroids for two setups.  I did 8×10 Polaroids only a few times in my career and these were super fun.  I loved every shot we did.  I also did some cool shots with his mom.  By the end of the shoot Scott was feeling good.  This was one of those shoots where I wished I had twice the time to shoot.  What we got was great, but I wanted more.