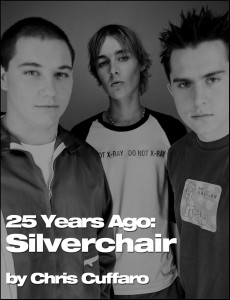 09.25.98 | Silverchair | Epic Records
What a great shoot!  Shooting Silverchair for Epic Records was crazy fun.  We did the shoot for publicity at Smash Box Studios in Culver City.  This was their first shoot and trip to the U.S.A.  They were just blowing up and I was super ready for them.  We gave them the VIP treatment for the day.  Daniel, Ben and Chris were the best.
I did a couple setups on the cyc and then some with window light.  As always I shot Polaroid 665 cuz that's what I did.  We also shot some solos of Daniel as well.  We did as much as we could and kept it easy.  I ended up seeing them play for their first show in LA.  A great live band and Daniel was fucking amazing!