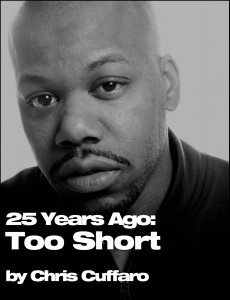 10.09.97 – Too Short | XXL Magazine
My first shoot for XXL Magazine was the iconic rapper Too Short.  The funny thing was we did the shoot at some rental house in Marina Del Rey.  When we parked and walk to the house we found a bunch of bullets laying around in the driveway.  NOT gun shells, but bullets!  I knocked on the door and the guy that answered did not know there was a photo shoot scheduled.  I handed him the bullets and told him they should be careful.
Too Short was not there so we set up and waited.  He eventually showed up and we did a couple set ups in the house.  He was super nice and very easy.  Rather calm and quiet for a rapper!  I ended up talking him into walking a block to the beach and doing a shot outside.  It was a nice day so why not!  Overall a good day and great shoot.