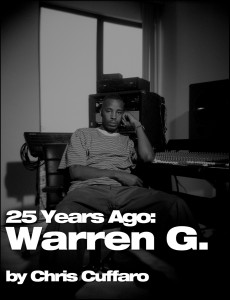 07.25.95 – Warren G. | Musician Magazine
I think this was my last shoot for Musician Magazine.  I think by this time Gary Koepke/Creative Director left and they stopped using me.  I shot Warren G. at hime home in Los Angeles.  It was for an article about home studios I think.  What I remember most about this shoot was Warren was too cool and easy to shoot.  Also he lived in a nice neighborhood.  And the studio was really nice.
The shoot was quick and dirty!  The photo they ended up using was shot with my plastic Diana camera.  That was the first time I used my Diana camera on a job!  It was for fun and snaps.  I still have it to this day and love the results it got me.  Now days… ALL about digital.  I miss Musician Magazine SO much.  I did some of my best shoots for Gary Koepke.  He gave me my start and I owe him everything!