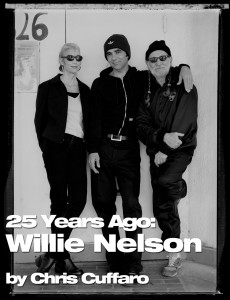 03.03.98 | Willie Nelson | Island Records
FUCK YES!  What a fucking day and shoot!  One of the best days ever!!!  Shooting and hanging out with Willie Nelson while he recorded the album Teatro at the Teatro Theatre in Oxnard, CA.  The album was being produced by legendary producer Daniel Lanois and recording with them for the day was Emmylou Harris.  I spent the day shooting and just documenting the process.  I love watching the creative process and this was the best with the best!
The things I remember… first up, Daniel asking me who I was and telling me to stay out of the way.  I laughed and told him I would and this was not my first shoot.  Second, was just hanging and talking with Willie.  He was beyond cool and watching him create was the best of the best.  Third, meeting and talking with Emmylou.  She was the best.  Last… sitting in the studio, Willie lit up a joint, took a few hits and passed it to Emmylou and then she passed it to me!!!  I took a couple hits and passed it back.  You don't say NO to these two when smoking weed!!!