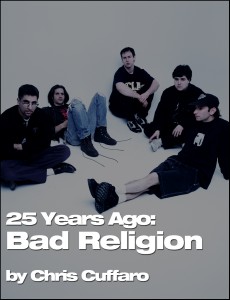 05.10.94 – Bad Religion | Atlantic Records
Legendary Bad Religion for Atlantic Records. This was super fun! I used to love these guys. Shot them before for Rolling Stone Magazine and this time it was for the label. I did this shoot at some studio on Highland Blvd. in Hollywood. I just don't remember which one. Ugh.
The band as super cool and so easy to shoot. They're that kind of band this is low maintenance and doesn't do or need much. I just did set-ups that were simple. Sitting on the floor, standing in front of seamless and just super casual in every way. Since this was for publicity, the label wants photos where you can see everyone clearly. I also feel with all my subjects that I need them to look relaxed no matter what we do. When someone is uncomfortable or trying too hard it shows! I hate that. Just relax and have fun.