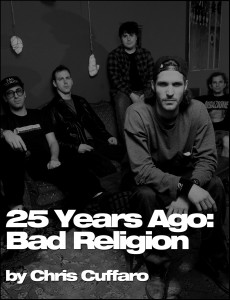 04.11.92 | Bad Religion | Spin Magazine
This was my chance to shoot one of my favorite live bands ever! Back in the day Bad Religion shows were crazy as fuck. I think they're still the same to this day, but I haven't seen them since 92. This shoot was done at a local coffee bar down the street from where I live. The shoot was for Spin Magazine, so that meant no real budget. That's why I had to keep it simple.
What I remember most about this shoot is only funny to me, but I have to share. I had met a couple of the guys before and they were always cool with me. We did like two simple set-ups. We were shooting away and everything was good. During the last set-up I told the guys I was shooting Social Distortion for Rolling Stone in a couple days. I asked them if they knew Mike Ness and the band. They all started laughing and doing their best Mike Ness impersonations. Grumpy, moody and funny! I could not stop laughing! They had him down perfectly. AND of course it made it tough to shoot Social Distortion, cuz in my head I was laughing out loud.