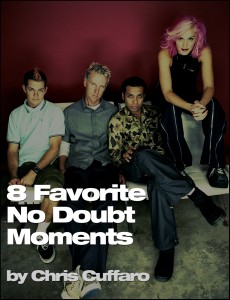 My first shoot with No Doubt was way back on November 10th, 1991 for Interscope Records.  I was lucky to shoot them a few times after that first shoot.  Also shot Gwen solo for fun.  Here's my 10 favorite moments with Gwen Stefani and No Doubt…
Meeting the Band – November 8th, 1991 – They were so young and nice.

 

I just remember meet Gwen and thinking she's too nice.

 

Their A&R guy told me she was gonna be a star!
First Shoot – November 10th, 1991 – Shoot at Studio 46 on Pico Blvd.

 

So much fun and got to see how the band was so close.
Spin Magazine Shoot – January 11th, 1997 – We reconnected while shooting them for Spin Magazine.

 

Spent the day with them and just laughed.

 

They were just beginning to take off and it was so fun to catch up before things really got crazy.
New York Shoot – July 10th, 1997 – I got to fly to Albany, NY to do a quick shoot for publicity and packaging.

 

I think they were finishing up their North American Tour and heading to Europe.

 

Gwen had cut her hair short and was as nice as ever.
Video Shoot with Bush – August 27th, 1999 – I went to shoot Bush/Gavin for Trauma Records and Gwen was there on set just hanging out with Gavin.

 

We had a great talk about life and work.

 

I told her about how I had my heart broken and was struggling.

 

She listened and gave me great advice.
Interscope Shoot – September 9th, 1999 – A big publicity shoot for Interscope Records at Smash Box Studios.

 

We also drove to Santa Monica boardwalk and had some fun.

 

A great shoot and Gwen had pink hair!
Solo Shoot with Gwen – September 22nd, 1999 – After our talk at the Bush video shoot, Gwen offered up to do a fun shoot.

 

I booked a trashy hotel on Sunset Blvd. and got a style crew.

 

We all met there and had some fun.

 

Gwen was the best and we just played ALL day.

 

One of my favorite shoots of my career.
Meeting with Gwen – September 25th, 1999 – After the hotel shoot I met with Gwen at her home and showed her the photos.

 

She loved them.

 

I thanked her for the inspiration and her time.

 

This was the last time I saw Gwen.

 

I will always thank her for being the best of the best.

 

A simple girl from Orange County.