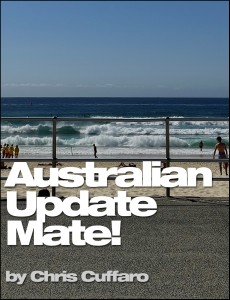 YO!  I wanted to drop an update on ALL that's going on here in Australia!  I've been here for 7 weeks and have 6 weeks to go.  I love being here as always.  My friends are the best and Bondi Beach is magical!  I'm working lots, but mixing in some fun time.  Trust me… I'm making sure I'm getting fair share of banana bread and vanilla lattes.
The 5 day Greatest Hits exhibition was awesome thanks to Behind the Gallery.  I had so much fun sharing my life and art with everyone.  I met so many new people and loved hearing they're stories about their love of music & photography.  We sold a lot of prints and I made people smile.  I'm so grateful to everyone who stopped by.
In the next 6 weeks I plan to enjoy my Christmas holiday, do some shoots and work on my next BIG exhibition.  I have to shoot and create no matter where I am.  I love ending every year on a creative high and shooting in Australia is always fun.  Musicians, bands and talented people are everywhere.  I'm here to shoot them ALL!  Good on ya mate!