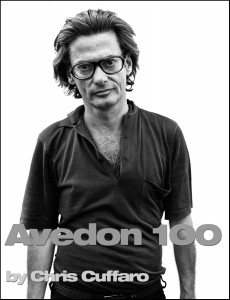 My hero master photographer Richard Avedon has an exhibition in NYC right now at the Gagosian Gallery.  It's called Avedon 100 and it celebrates his 100th birthday.  In my opinion he was the greatest photographer ever.  I discovered him when I was 10 years old and I wanted to be him.  This exhibition is an amazing celebration in every way!  The sad news… I can not make it cuz I will not be in NYC anytime soon.  UGH!
I was lucky to see his exhibition at the University Art Museum in Berkeley in 1980.  It was the first time I went to a major photography exhibition and cried.  It was so powerful and inspired me to keep working hard!  I wanted to have exhibitions like his when I was young!  Then in 1994 I saw his exhibition at the Whitney Museum of Art in NYC.  Fucking brilliant in every way!  The last one I saw was in NYC at the Metropolitan Museum of Art in 2002.  That was pure magic!  My goal is to have an exhibition there some day and hopefully be alive when it happens!
Every time I look at Avedon's work it brings me back to why I got into photography.  I like to think of him as my hero.  He's not the only one, but his the best one.  He's been with me since day one.  If yer in NYC and you do NOT go see this exhibition, yer an idiot!  If yer close by, get off your ass and go see it!  You will see what a true master photographer is!!!  GO HERE for information!