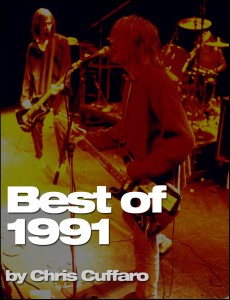 Where does time go?  Did you know this year is the 25th anniversary of 1991?  Why does this matter?  What is so special about 1991?  Well for me 1991 was one of my best years ever!  SO much happened in the music world.  I like to say its the year that the music world blew up!  There was Seattle, Lollapalooza and so much more!  Not only was I lucky enough to witness a lot, I have the photos to prove it.  Here's the 10 best moments for me in 1991…
Jane's Addiction perform at Madison Square Garden | April 24th – The first show at the Garden that allowed a mosh pit!  The show was OK, but the moment was amazing!
First Trip to Seattle | March 28th to 31st – Shot Queensryche and Nirvana, but the best part was seeing Seattle for the first time, meeting some great people and drinking a ton of coffee!!!
First Lollapalooza in Arizona | July 18th – Hot as fuck, crazy as fuck and amazing as fuck!
Soundgarden's Jesus Christ Pose video shoot | August 8th – A long day in the desert.  Just a great day hanging out with the band.
Fugazi perform in the middle of the desert at Jawbone Canyon | September 6th – I've written about this before, but it was awesome and a show I will never forget.  You had to be there!!!
Jane's Addiction "Last Show" in Honolulu, Hawaii | September 26th – The best music moment ever!!!  This show was crazy as fuck!
Nirvana & Mudhoney at the Commodore Ballroom in Vancouver | October 30th – Both bands were at their best and a great tiny venue that went crazy!
Directing my first video with Pearl Jam | October 3rd & 4th – Changed my life in more ways than I can count.
Pearl Jam at the Roseland Ballroom in NYC | November 15th & 16th – Seriously the best shows I ever saw of the band.  They were fucking brilliant!
ABC In Concert | December 27th – Directed interviews with Nirvana, Pearl Jam & Red Hot Chili Peppers.  I broke my elbow the day before & everyone gave me shit about it.  The show that night was at the LA Sports Arena and I couldn't shoot it cuz I couldn't hold a camera.  Ugh.