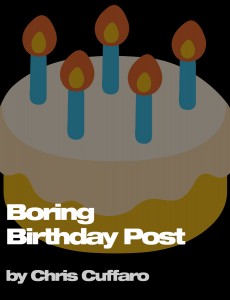 YO!  Happy birthday to me.  UGH!  I fucking hate birthdays.  What are they good for?  Just a reminder that I'm getting older by the day.  Ugh.  Here's 10 things that make me happy about getting older…
I love the wisdom that comes with a long life.
I'm more patient than ever with life.
I used to believe everything happens for a reason and I still believe it more than ever.
SO grateful for everything and everyone.
Still passionate about my art and life.
Still the desire to do more and do it big.
Proud of my relationships.

 

Some are so long I don't remember a time without them.
My health could be better, but it could be worse.
I've experienced true love a few times.

 

Looking for one more time.
Most of all I'm grateful for you.