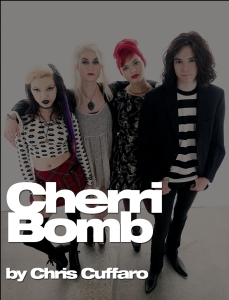 I just had the pleasure of shooting the awesome band Cherri Bomb a few weeks ago.  It's been a while since I had the chance to spend a day with a band and do a shoot.  The shoot was for me and the band.  No real client, just like the good old days when I shot bands for fun!  We spent the day at EDGE Studios in Los Angeles creating as much as we could.
Cherri Bomb is 3 grrls and 1 guy.  They play great Rock&Roll and are really talented.  Nia Lovelis plays the drums & sings.  Rena Lovelis plays the bass & sings.  Casey Moreta plays guitar & sings.  Miranda Miller plays guitar, keyboard & sings.  Basically they do it all and they do it well.  I saw them play at The Whiskey in Hollywood last year and they blew me away.
This shoot was all about having fun.  We shot 5 different set-ups; group shots as well as individuals.  Its been about 5 years since I shot a band and to honest it felt like 5 days.  Its like breathing for me, I just do and don't think.  I love shooting a young band like this because they have great energy, passion and most of all are not jaded by the business.  Plus this band has a great sense of style and that made my job easy.  Simply put… Cherri Bomb makes me look good.