This shot to me is the ultimate Chris Cornell shot from 1991. It captures Chris and ALL that 1991 was for me. There is a crazy story behind this one and a story that I'm very proud of. It actually starts with Perry Ferrell, but more specifically, my famous image of Perry in bed with his arms out wide like Jesus Christ. I made a promo card of that image, Chris ended up seeing it, and their song "Jesus Christ Pose" was born.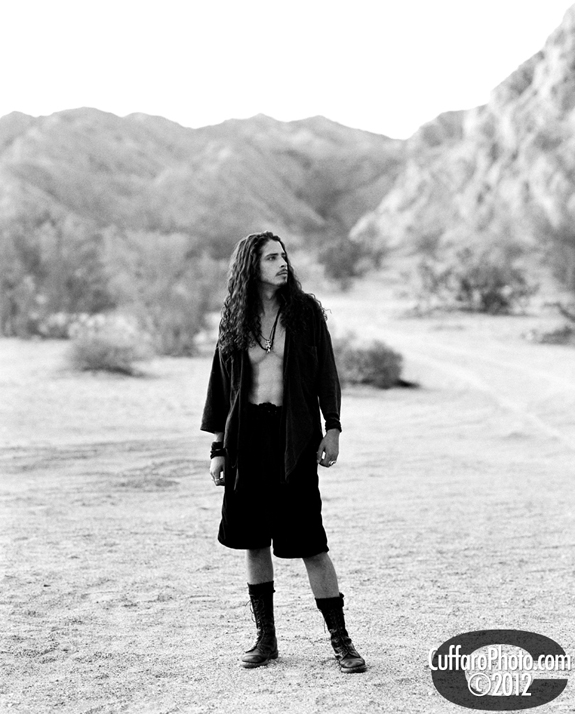 Fast forward months later to when Soundgarden is shooting their music video for the song in the middle of Palm Springs. My good friends at A&M Records let me go out and shoot my friends for fun. By this time, I had already shot Soundgarden a few times so they were use to having me around.
But unfortunately, there were some problems. First, I hadn't slept for 48 hours prior to driving to Palm Springs. Second, it was fucking HOT! Third, did I say it was HOT? Once I got out there the shoot was going slow, but the guys were in great spirits considering the conditions. We sat by the motorhome and listened to Nirvana's Nevermind advance tape that I was lucky to score. We all just shook our heads in wonder.
I shot the guys while they worked and as the day wore on, I got so tired I could not see straight. By the time they called wrap I was done! There was no way I was going to drive home. Chris offered to drive me home so I could sleep in the back seat. I took full advantage of that offer.
Once I got home, I slept for another day and a half. I finally got to the lab and processed the film only to see this special shot. I shot Soundgarden a few more times and the guys were ALWAYS good to me. Chris is a talented fuck and I will always be grateful for the ride home.