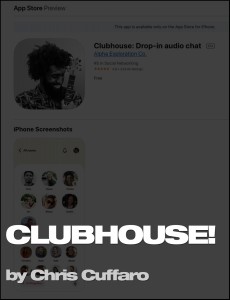 YO!  You in or are you out?  Do you belong to the Clubhouse?  Have you been invited?  WTF am I talking about now?  The newest social media app that is the latest craze!  I joined 2 months ago and have been entertained since day one.  I've already met some super cool people in person and online.
This app is based on audio chats.  It's about connecting, talking, listening and sharing.  I mainly stick to the rooms about photography and creating.  I love hearing all the passion from everyone.  I love hearing about their love of photography.  So many photographers are out there and they love photography!  
If you haven't checked it out, I recommend that you do, BUT beware like ALL social media it's addictive.  Next thing you know yer listening for hours on hours.  Next thing you know yer laughing at some of the funniest shit ever.  Next thing you know you learn something new or hearing something you never thought of before.  It's a Clubhouse, so use your manners!