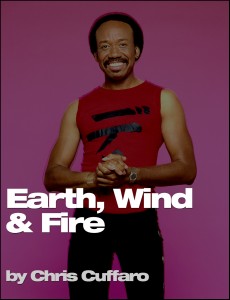 My favorite band of all time is Earth, Wind and Fire by far.  NOT who they are now, but from the beginning to about 1982.  I saw them 6 times in concert while I was in High School.  Took my camera to the shows and shot lots of fun photos.  I worshiped Maurice White!  He was the leader and was a musical genius.  He knew how to entertain and put on a great show.  When you saw them live you knew it was gonna be great!
I still play their music to this day!  I love them live most, so albums like Gratitude and Alive in 75 are my favs.  I have too many songs that I love!!!  Their music always makes me smile.  ALWAYS!  When ever I'm in a bad mood I play EWF and smile.  
I was so lucky to shoot Maurice White, Phillip Bailey & Verdine White.  They all were amazing and so nice.  Each shoot was a BIG deal for me at the time.  Shooting Maurice White for Musician Magazine was my 2nd official music shoot.  I also shot Phillip Bailey for Musician Magazine.  Meeting and shooting my musical heroes is the best part of my career!!!  BUT meeting and shooting EWF was one of my biggest highlights!!!