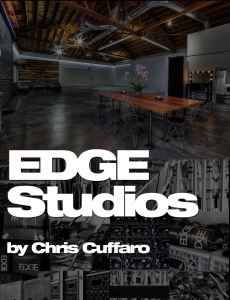 I wanted to give a shout out and a little love to my favorite photography studio in Los Angeles… EDGE STUDIOS!  These guys are the best in so many ways.  First, the studio is amazing and perfect for any shoot.  Second, they also carry tons of gear and if they don't have it, they will get it for you (studio or location).  Third, the guys in charge are the best and they understand the most important thing in any business… SERVICE!
I've been shooting in LA for over 30 years now.  There are tons of studios here and they all have something to offer.  There is a space for any size shoot and budget.  The one thing that most studios don't understand is that service is the most important aspect of any business.  No matter the budget I should be treated like I'm their #1 client.
That's why EDGE STUDIOS is my first choice these days… service with a smile.  If you're ever in LA and need a space… Check them out and tell them I sent you.  You'll be glad you did.