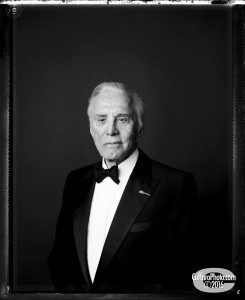 Great Moments
"We do not remember days, we remember moments."  I've had too may moments to count.  I've met and shot too many of my heroes.  Spent time with some of the coolest people on earth.  Lucky enough to have more than a few special moments.  These are special moments that I will never forget and will always be grateful for.  Today's GREAT Moment…
Kirk Douglas | 11.27.98
I'm Spartacus!!!  Another shoot for TNT Networks.  This time it was with the acting legend Kirk Douglas.  I had to do a quick portrait for the SAG Awards.  We drove out to Palm Springs to shoot him at his home.  We got there in the afternoon.  We met his wife and she took us to the backyard to set up in the pool house while Mr. Douglas got ready.  This house & pool house was amazing!  It looked like a time capsule of the 60's decor!  The pool house was decorated with his movie posters and movie memorabilia.
We got ready and made sure everything was good to go.  He walked in wearing a tux and looked so sharp.  He was such the professional.  I asked him if he was tired of doing photo shoots?  He laughed and said no.  The shoot lasted 30 minutes and every shot was great.  He shook my hand and said thank you.  I was like, NO thank you.  Seriously… He was Spartacus!