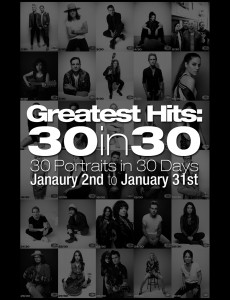 Yo! I finally have a moment to sit down and reflect on my first Greatest Hits event here in Los Angeles. Simply put, it was awesome in every way! Thanks to everyone who attended.
I wanna talk about the build up to the February 2nd event at Gibson Brands on Sunset. I wanna talk about my Greatest Hits: 30in30 shoots. First… they went as smooth and fun as I knew they would. From the first to the last. ALL 30 portraits just worked and I had a blast shooting them.
Thanks to Jason at EDGE Studios for all his help and support. Without him none of these shoots would have happened. Thanks to all my subjects for putting up with my insane idea to shoot 30 portraits in 30 days. Thanks to my crew for their amazing help to make these shoots go smooth and easy. Here's the list of subjects and the date of their portrait.
Date/Subject
01.02 – Matthew & Nathan Leone
01.03 – Jason Sutter
01.04 – Fred Sablan
01.05 – Jeordie White
01.06 – Days of Heaven
01.07 – Jade Hendrix
01.08 – Ed Salazar
01.09 – Jared James Nichols
01.10 – Josh Todd
01.11 – Zealyn
01.12 – Trevor Moran
01.13 – Will Champlin
01.14 – Ash Hollywood
01.15 – Victoria Daniel
01.16 – Marta Pozzan
01.17 – Vic Leone
01.18 – Dita Von Teese
01.19 – Nick Youssef
01.20 – Trevor Wesley
01.21 – Steve Agee
01.22 – DJ Serafin
01.23 – Sol
01.24 – The Last Internationale
01.25 – Ryan Cabrera
01.26 – Symon
01.27 – Kapali Long
01.28 – Anahita Skye
01.29 – Luis Mitre
01.30 – Tiffany Dunn
01.31 – Selene Vigil