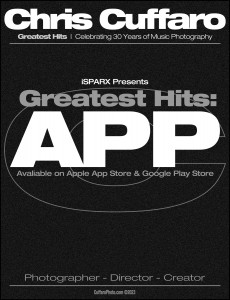 I'm so excited to announce that my Greatest Hits APP is NOW available at the Apple App Store and Google Play Store!  This is a dream come true THANKS to iSparx in New Zealand.  I have dreamed about having an APP since I started my Greatest Hits Project back in 2010.  I've talked to companies, designers, programers and more trying to make this APP happen.  Then the amazing people at iSparx stepped up, saw want I needed and delivered BIG time.
The Greatest Hits: APP gives you the ability to dive deeper into my Greatest Hits project.  We're starting off with over a hundred Greatest Hits iconic photos of icons.  You can check out any iconic photo, watch the video telling the story behind the photo and review proof sheets from the shoot.  Also you can check out my past, current and upcoming exhibitions!  This is Version 1.0 and it's awesome, but we have BIG plans for so much more.  You ain't seen nothing yet!  New tech brings new ideas!
I wanna thank the amazing Joff Rae and Finn Beattie at iSparx for their vision and support.  This does NOT happen without them.  Also a big shout out to Leesa Tilley at AgentX Publicity+ for the introduction.  We're just getting started with my Greatest Hits: APP and I promise it's only gonna get better!  Woo hoo!!!