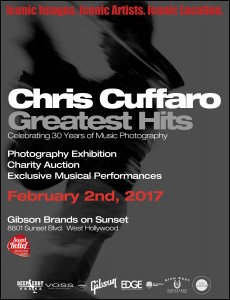 I can't believe it's finally here. My first Greatest Hits exhibition!! WOO HOO! I've been working on this for 3 years and today is the day! It all starts at 7pm at the iconic Gibson Brands on Sunset Blvd. I can't tell you how excited I am in a simple blog post, but just know that I'm so ready for this. I've poured everything I could into making this the best night ever. I am very proud to say I have the best team around to make this dream a reality. We are so good to go! If you are in Los Angeles, this is the place to be!
The schedule…
7:30pm to 8:30pm – VIP auction
8:30pm to 11:00pm – General event, musical performances and auction
Don't forget we're here to raise money for the Sweet Relief Musicians Fund. All the prints will be up for auction. Please bid early and fast! These snapshots of music history will go quick! You don't want to miss out on these amazing photos! Trust me, they're look fucking amazing!
I want to thank everyone who got me here and have supported me in the last 40+ years. This celebration is for everyone! If all goes well, which I know it will, I want to take this exhibition around the world. Tonight is the first big step and I want to make it the best. Bring it on and let's do this damn thing!!!
Want to thank all my sponsors…
Casamigos Tequila | @Casamigos
Deep Eddy Vodka | @DeepEddyVodka
Edge Grip & Studio | @EDGE_Grip
Gibson Brands | @gibsonguitar
High West Whiskey | @drinkhighwest
Kim Crawford Wine | @kimcrawfordwine
Lagunitas | @lagunitasbeer
Mr. Musichead Gallery | @mrmusichead
Not Your Father's Rootbeer | @smalltownbrewer
Pono Burger | @PonoBurger
Voss Water | @vosswater