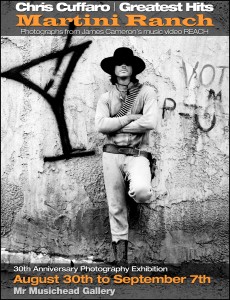 BIG news! My next exhibition is ALL set. It will be on August 30th here in Los Angeles at Mr Musichead Gallery. It is going to be a truly special show… Greatest Hits: Martini Ranch.
Way back in August of 1987 I was lucky enough to work on a very special music video. The band was Martini Ranch, the song was Reach and the director was James Cameron. We shot for 2 days out at Veluzat Motion Picture Ranch in Newhall, CA. The idea of the video was an apocalyptic twist on the classic western: a bad guy being pursued by a gang of ruthless female bounty hunters.
The band featured Bill Paxton & Andrew Todd. The video was filled with a who's who of Bill's friends. The few that I remember… Kathryn Bigelow, Lance Henriksen, Paul Reiser, Jenette Goldstein, Judge Reinhold, Brian Thompson, Adrian Pasdar, Bud Cort, Mark Rolston, Phillip Granger and so many more.
Bill and James gave me free reign and let me shoot whatever I wanted. I shot a ton of portraits and a ton of BTS. Everyone on the crew was amazing and the actors were so into it. It was such a team effort and everyone gave everything they could to the production