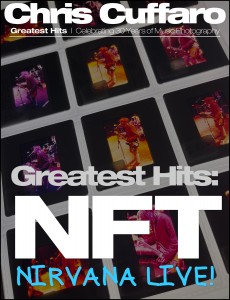 Here we go!  Super exited for my first NFT drop on OpenSea.io.  This BIG drop is ALL about one great concert with Nirvana on October 25th, 1991 at The Palace Theatre in Los Angeles.  These images captured this great concert with Nirvana a month after Nevermind came out.
The energy, the music and the band was fucking brilliant.  This was my 2nd time seeing Nirvana live and my first time shooting them live.  A great night and show.  A week later they played the infamous concert on Halloween at the Paramount Theatre in Seattle.  AND I was lucky to be there for that show as well.  Ahhh… the good old days!
These images are the best of the best.  I shot them while on the side of the stage.  There was no real room in the pit and it was a bit dangerous.  SPIN Magazine ended up using one for an article called New Music Preview.  Some of these images have not seen the light of day.  I chose the best of the best.  I wanted to make sure that you could feel what I felt that night… pure Nirvana energy!