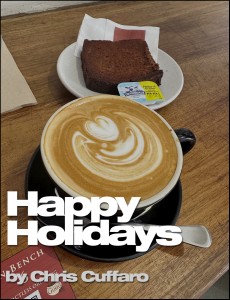 Tis the season and I'm so ready for my Aussie Christmas!  It's summer here and I will be on the beach working on my tan!  Ho Ho Ho!  This will be my 5th Christmas here in Sydney.  It's fun to hear Christmas music when it's summer outside.  It's even fun to see Christmas decorations while wearing shorts and flip flops.
I hope YOU and everyone has the best holiday.  I hope you get some rest and recharge.  I hope you get some egg nog and Christmas cheer.   The one big thing I love to do… listen to Charlie Brown's Christmas soundtrack all day on Christmas Day.  The best Christmas music ever!  And course eat some Christmas cookies.
As always… have a safe and Happy Holiday!  Ho Ho Ho!