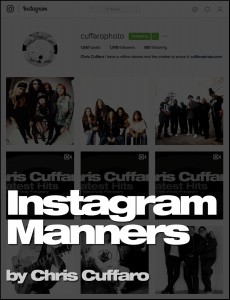 Listen up Instagram lovers I have some thoughts and advice for you. I understand you're big fans of your bands and musiciians. I appreciate the fact that you love my photos. I love the nice comments I get. I also love the fact that you care so much about the legends that have passed. BUT I really wish you would use some manners when it comes to Instagram. Here's 3 things I wish you could do for me…
Manners Please – If you want to take one of photos and post it, please ask. Like the musicians you love, I work hard for my art. Don't steal, just ask. 99% of the time I will say yes. I just like being asked. Manners matter and cost nothing. The nicer you are, the more I will post.
Credit Please – If you are going to repost, borrow or steal my images could you please credit me. Again, it's nice and the polite thing to do.
For Sale – If you like any of my photos, just know that you can buy a print from me. Just email me and let me know what you like at chris@cuffarophoto.com or check out my new store HERE!