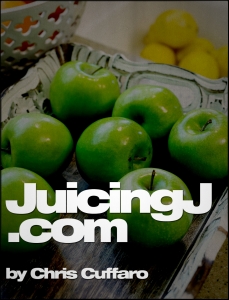 I got the chance to help a good friend create a great new blog… JuicingJ.com.  It was a fun challenge and of course I jumped all over it.  I have not shot food or still-lifes in a while, but its nothing I can't handle.  To be honest… I've done my fair share of this kind of work through the years and always enjoyed it.  I never really told anyone, but I hope to shoot more in the years to come.  I love the idea of shooting cook books when I'm old and crabby.
We spent a full day with all sorts of fruits & vegetables.  Our goal was to get as much as we could get done in one day and we got lots done.  Since I'm a big fan of Martha Stewart & Real Simple I kept it simple and used daylight with a little bounce light for fill.  It comes down to natural light to make the food look its best.  We used fresh produce and great props to enhance the photos.  Its all about styling with food shoots and not so much about the photographer.  My job was to capture what was in front of me.
I worked real hard on the blog and I think it looks pretty good.  You should check it out and let me know what you think.  Again I kept the look and feel simple.  I'm a big believer in clean design and letting the photos do the talking.  We are just starting with this blog, but I know its gonna get better.  We are gonna keep updating and growing so please keep checking in.
Follow ME on Twitter!