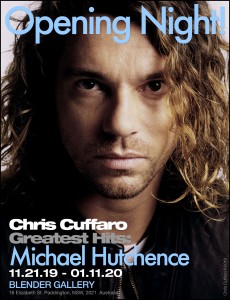 Yo! It's ALL happening now! Tonight is the opening night for Greatest Hits: Michael Hutchence at the best music photography gallery in Sydney, Australia BLENDER GALLERY. It will be up from November 21st to January 11th. This exhibition is for all of you INXS & Michael Hutchence fans.
Back on October 1st, 1993 I got to shoot legendary lead singer of INXS Michael Hutchence for Detour Magazine. I've talked about this shoot many times before because it was truly special in every way. Michael was one of a kind and will be remembered as one the best lead singers ever.
I truly believe this shoot was great and now has become iconic. I believe that this shoot of Michael Hutchence is one of his greatest and one of mine. I'm beyond proud of this shoot and I hope you love it as much as I do. Thanks to Michael for making me look good.
For all sales enquiries contact: info@blendergallery.com
GALLERY INFO:
Blender Gallery
16 Elizabeth Street, Paddington
NSW, 2021 Australia
tel: 02 9380 7080
web: blendergallery.com
instagram/facebook/twitter: @blendergallery