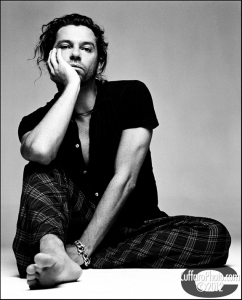 I shot Michael Hutchence for Detour Magazine. My best friend Erin Culley was the Music Editor and was doing a story on Michael. She knew that I had worked with him in the past, but we also had mutual friends. Both Erin and I had been working in the music world for a while and back in those days everyone knew everyone.
He showed up to the studio as casual as you can be. NOT the "rockstar" image that he was. We sat around talking for a while before we even started. I told Michael I wanted to keep it simple and just focus on him. NO tricks and NO bullshit. The shoot went smooth and of course Michael was so easy. Looking back on that shoot it was one of my favorites because it was so personal. We hung out, laughed, shot and talked about our crazy lives. The best part was at the end when I suggested he put on this kinky leather mask and he wickedly smiled at me and said yes. To this day it's one of my favorite photos ever just because he really got into the idea. I love the look in his eyes.
I delivered the images to the magazine and everyone was thrilled. My kind of job… easy, great talent and lots of fun. Michael was so special and overall just a really nice guy. He was creative as fuck and had a great imagination. It didn't matter if I was shooting him or just hanging out…he was the same…nice. I miss him to this day, just like everyone else.