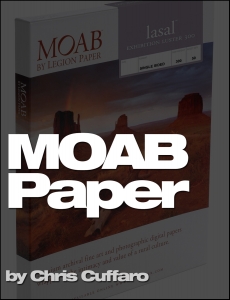 Do you have an ink jet printer?  Do you like making your own prints?  What kind of printer do you own and use?  What kind of paper do you use?  Lots of questions… Let me get to the point!  I've own my own EPSON large format printer for over 10 years now.  I love it very much.  I honestly think they make the best printers!!!  I've made a ton of prints from day one and everyone of those prints was printer on MOAB Paper!!!
Why?  Because they make the best paper ever!  I have never had the urge to try any other paper.  MOAB is the best for so many reasons, but here's my top three.  Variety… They cover every type of paper I need for every project I print.  Quality… All their papers are high quality.  I love their Entrada Bright White 300g best!  Always makes my images look their best!  Compliments… I love the simple fact that my images look amazing and people notice the quality of the paper I print them on.  When I sell a print someone always asks me, "what do you print on and where can I get it".
I have had many people show me other papers, try to get me to change and tell me that there is better paper out there.  I laugh and tell them to fuck off.  MOAB rules!  No lie and no bullshit.  Try it and you will like it.
PS.  And I'm not just saying this to get some free paper or looking for a sponsorship!  I really love their papers!  So if MOAB is listening… Thank you!