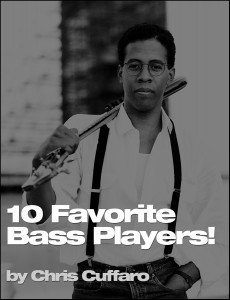 This was easy!  I love the Bass and the players who play it.  When ever I went to shows I would always judge the band by the bass player.  Here's my 10 favorite.  Let me know what you think.  
Larry Graham – Funk yes!

 

Invented the funky bass!
Stanley Clarke – My hero!
Bobby Watson – The backbone to Rufus!
Flea – Funky, fun and crazy!
Tina Weymouth – SO funky!

 

Have you really listened to Talking Heads?

 

You should!
Verdine White – There is NO Earth, Wind & Fire without Verdine!
Eric Avery – Best of his generation!!!
Duff McKagen – Rock God in a rock band!
Sting – Pure genius in so many genres!
Nathen East – Can play anything and everything!