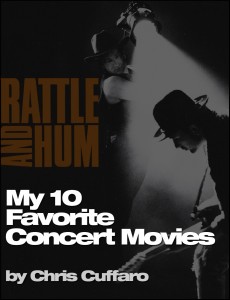 If you can't be there, then seeing it on the big screen is almost as good.  If done right, a concert movie can be pretty amazing.  Of course not as good as live, but pretty fucking close.  I've watched a lot through the years and here's a few that rock my world…
The Beatles | Rooftop Concert – Just pure raw Beatles!
U2 | Rattle & Hum – Love the stories that go with the tour.
Talking Heads | Stop Making Sense – The best ever!!!
Led Zeppelin | The Song Remains the Same – Duh!
Chuck Berry | Hail Hail Rock & Roll – Legendary!
Pink Floyd | Live at Pompeii – Classic Floyd.
Madonna | Truth or Dare – I'll take the truth please.
Prince | Sign O' The Times – Prince can do NO wrong.
David Bowie | Ziggy Stardust & the Spiders From Mars – Genius!
Multiple Artist | Monterey Pop – Best of the 60's!  Legendary.