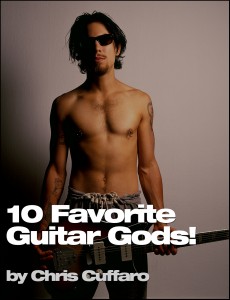 I wanted to have some fun with making lists.  I wanted to look back at my favorite musicians and come up with my Top 10.  I dug deep and really looked at the musicians that made me feel.  Not just about talent or the songs, but about passion and feel.  Take a look and let me know what you think.  I did NOT see all of them play live, but I did see most of them.
Carlos Santana – As far as I'm concern, THE guitar God!
Eric Clapton – The blues never felt so good.
Dave Navarro – The best of his generation.
The Edge – The greatest rock band ever!
Prince – Duh!

 

Fucking genius!
Frank Zappa – He was everything and could play the guitar better than most!
Daryl Stuermer – My Genesis hero!!!

 

Also saw him play with Jean Luc-Ponty.
Eddie Van Halen – Fuck yea bro!
David Gilmore – Pure passion!!!
Jerry Cantrell – Best of Seattle in so many ways!