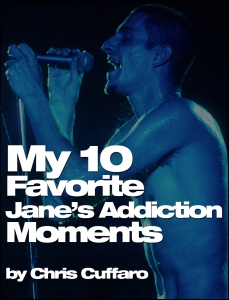 I was lucky enough to hang out, shoot and have fun with Jane's Addiction from 1989 to the end of 1991.  They broke up the band after two last shows in Hawaii September 25th & 26th, 1991.  During that time they were my favorite band by far!  They could do no wrong and every show and shoot was the best of the best.  I had so MANY great moments and lucky enough to have photos to prove it.  Here's a list of 10, but trust me there are another 50 I could easily tell you about.
My first time seeing them live – it was in Santa Barbara, CA in 1989 I think.  My good friends Mary's Danish were opening for them.  Seeing fucking Jane's Addiction on stage doing their thing just blew my mind!  I was in awe.
My first shoot with Perry Farrell – that's when I shot my famous image Jesus Christ Pose.  It was a shoot for Exposure Magazine.  The shoot was awesome, but they did not like the photos so I had to reshoot.  Fine by me!
The Atlanta show during the Ritual Tour – It was November 11th, 1990 at the Center Stage.  The show was awesome as always, but the cool part was the stage was like 4 feet above the floor with NO pit between the band and the audience.  I shot the show from the stage.  It was fucking CRAZY!!!  Kids were flying everywhere!!!
FIRST Lollapalooza – July 18th, 1991 in Phoenix, AZ.  I arrived early that morning with NO sleep from the week before.  It was 114 degrees outside.  Everyone was stressed, hung over or fucking high.  Backstage was beyond stressful since it was the first one and lots of bugs needed to be worked out.  NIN got pissed after one song and left the stage.  Rollins band was on point.  Jane's was in a bad mood.  At the end of their set Dave trashed his guitar and gear.  Then started after Perry and they had a full blown fight during the last song.  Then they started up again during the encore.  I was so in shock that I forgot to take pix.  I sucked, but I was so tired and it was fucking HOT!  Everyone was just a mess.
LAST Lollapalooza – August 28th, 1991 in Seattle, WA.  The show of course was great, but the best part was the drive getting there.  I went with my good friend Eddie Vedder and his grrl friend Beth.  I brought them along because they both were HUGE Jane's fans like me.  We bought a few King Cobras and hit the road.  At the time Pearl Jam was just starting and nobody really new them.  I took Eddie around and introduced him to everyone.  I'll never forget how stoked Eddie was to meet everyone.  Eddie was so nice and everyone liked him.  The show went off and so did we!  Amazing and wet!  The complete opposite from the first show.
Shooting the band for Warner Brother Records – November 12th, 1990.  It was the official publicity shoot for Ritual De Lo Habitual.  We shot at Studio 46 in Los Angeles.  The day went smooth and the guys were awesome.
Watching Dave Navarro Play Guitar – I truly feel Dave Navarro was & is the best rock guitar player of his generation.  Seeing him play show after show was fucking brilliant!!!  Every time he soloed during Three Days I almost cried.
4 Shows at the Universal Amphitheater – July 18th, 21st, 23rd & 24th, 1991.  The band was at its Ritual peak during these shows.  Every show was amazing.  I just remember sitting in the pit shooting them like it was yesterday!  I shot way too much film and happy that I did.  I got some of my best Jane's LIVE images during these shows.
"The Last Show" – September 26th, 1991 – HOLY FUCK!  I flew my good friend Beth to join me for this because I knew it would be epic.  The venue was SO hot and small.  I had to shoot the whole show from the stage cuz there was no pit.  After the first song, Perry took his cloths off and played the whole show naked.  NO lie, seriously naked.  I dare anyone to do that!  Nobody stopped him and he did the rest of the show naked until the encore.  The whole show felt special and I had never seen anything like it.  The heat had a lot to do with it.  After the show Beth and I sat on the beach and talked till sunrise.  To this day I feel this was the best show I have ever seen!!!
Jane's Addiction New Years Eve 2002 – December 31st, 2002 at The Wiltern Theatre, Los Angeles, CA.  I hadn't shot a live show in a very long time.  Like a really long time.  I got the chance to dust off my cameras and get in the pit one more time and could not pass it up.  It was a blast!  I shot a ton of pix and it was my first time doing it digitally.  When the clock struck midnight I was on stage with the band & friends celebrating!  Woo hoo!  The best part was afterwards when I went through the photos.  They were great and I knew I still had "it".  What ever "it" was, I still had "it".  Good times!