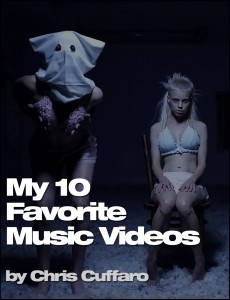 Do you remember when MTV started?  I do.  I remember watching it all day everyday.  I loved discovering new artist, watching the VJ's and checking out the videos for my favorite songs.  It was so new and exciting.  Here's my 10 favorite music videos of ALL time…
A Perfect Circle | Judith – David Fincher's best and probably my favorite video ever.  The song is great and the video just works in every way.
ABC | The Look of Love – The perfect 80's video!  The album Lexicon of Love is the best of the best.
Pulp | This is Hardcore – Love the song, love the video!
Duran Duran | Girls on Film – When this came out it blew me away!  They did so many great videos.  MTV made them.
Pearl Jam | Alive – Great memories!!!  Good times!
Die Antwoord | Cookie Thumper – Everything they do rules.  Hard to pick just one video.
Madonna | Express Yourself – David Fincher again.  Fincher was the best video director of his generation.
Metallica | The Unforgiven – So dark and beautiful.
U2 | Where the Streets Have No Name – Just fucking brilliant.
Rudimental | Rumour Mill – Its my favorite new video from my favorite new artist.  They do no wrong.  PS.  Anne-Marie is going to be BIG!