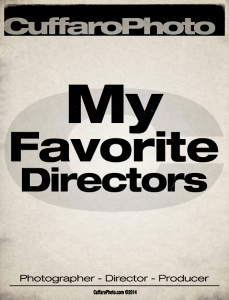 These be my favorite directors, yo!  These directors have shown me more than I ever dreamed of.  They've inspired me and my work.  When I started directing I stole all my ideas from these guys. So many to choose from, but here's my top 10…
Danny Boyle – "Transpotting"… The best ever!
Christopher Nolan – the man has a vision that I wish I had.
Robert Wise – Genius, duh!
David Lean – three words… Lawrence of Arabia!
David Fincher – I wish I could be him!
Antoine Fuqua – he scares me cuz he's only getting started!
Stanley Donen – master of the musical… "Gotta Dance"!!!!
Martin Scorsese – too many great movies to count!
Frank Darabont – The "Shawshank Redemption" is perfect and it was his first movie!  Holy fuck!
Sam Mendes – simply a genius!!!