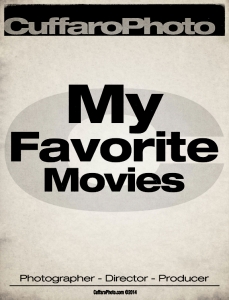 Do I love movies? Duh! The biggest reason that I'm a photographer is because of the movies. Growing up I use to love spending the whole day at the movie theatre, watching the same movie over and over. These days I don't go the movies at all, but I do watch just about everything that comes out. Here's a list of 10 favorites that you should NOT miss!
Funny Face – Audrey & Fred at their best!
Trainspotting – Love everything about this movie! I hope my first movie is this good.
Big Wednesday – Captures everything I loved about surfing & surf culture. John Milius is a crazy genius!
The Godfather – Classic, amazing and brilliant. Pacino & pasta!
American Beauty – Perfection! Everything is perfect about this movie and I mean EVERYTHING.
Lawrence of Arabia – EPIC! You gotta see this in the theatre if you can.
Hard Days Night – The greatest rock&roll movie ever made! The soundtrack alone is worth the price of admission.
Lord of the Rings – ALL 3 movies! Every Christmas I sit down and watch ALL 3 in a row.
Bladerunner – Best Sci-Fi movie of all time! Still holds up after these years.
Saving Private Ryan – Spielberg's best. Powerful, brilliant and smart.