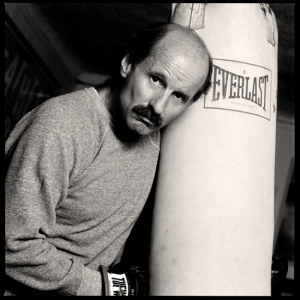 Lets go way back… I moved to Los Angeles way back in 1981 thinking I was gonna be a fashion photographer.  I found out quickly I was in the wrong city and I knew nothing about fashion.  It took me a couple years to figure out what to do until one day I saw the portfolio of an LA photographer who shot album covers.  Since I had been shooting concerts for fun and loved music I thought thats where I want to go with my career.  But how?  Where to start?
I new a Playboy Playmate who had a boyfriend who was a big time Record Producer.  I asked her if I could shoot a portrait of him and she said yes.  After I did the shoot I made a simple B&W promo card and mailed it out to ever music magazine I could find.  Then one day out of know where I got a call from Gary Koepke at Musician Magazine.  He told me he liked my work and wanted to see if could do a shoot for him with legendary jazz musician Joe Zawinul.  Since I was a huge lover of Jazz I said YES!
I did a good job even though I was a bit nervous.  I was confident with my skills, but nervous meeting Joe.  He was super cool and so nice!  We talked music and I told him I saw his band Weather Report perform years earlier.  I asked all sorts of questions about his music and life while we shot.  Doing this first shoot was amazing and on my way home I knew I was hooked.  I knew I wanted to shoot all my musical heroes and tour the world.  I knew I found my answer to the big question… What am I gonna do with my photography???  The answer… Shoot what I love!!!
Gary was very happy with my results and asked me to do another shoot for the next issue.  This time… Shooting the leader of my favorite band Earth, Wind & Fire Maurice White.  Holy fuck!!!  How cool is that?  Thanks to Gary I become his go to photographer on the west coast for 3 years and shot more musicians than I ever dreamed of.  I always give him credit for making me what I am today.  Honestly without him I would not be here today.  He taught me so much and give me the room to learn.  Thanks Gary!