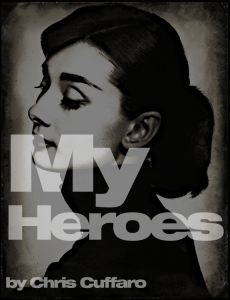 I was asked recently who my heroes were.  I thought it was a funny question, because I've always had heroes since I was a kid, but was never asked.  The funny thing is you will be surprised who hey are.  Here's a list of my top 10 people I looked up to and respected in no particular order…
Sammy Davis Jr. – ever since I was a kid I admired him.  When I saw him do anything he made me smile.  He was great at everything.  When I got to see him live with Frank Sinatra in 1983 I cried because he sang Candy Man.  It was one of the greatest single moments of my life.  No lie!
Audrey Hepburn – She was amazing in every way.  I loved her movies and the movie Funny Face inspired me to be a photographer.  She was such a good, caring, loving soul who was more than just an actress.
Arthur Ashe – I wasn't a huge tennis fan growing up, but I loved the way he lived his life.  It was too short, but he left an incredible legacy.  Truly inspirational.
Gregory Hines – another extremely talented man.  I loved watching him dance and perform.  Pure talent.  I was lucky enough to meet and shoot him.  He was so nice and everything you would hope for in a hero.
Richard Avedon – my biggest influence on my work by far.  There was nothing he could do wrong in my eyes.  His photography was and is the best.  A true master!  His art will last forever.
David Fincher – one of my favorite directors ever.  Was lucky to meet him early on in his career when he was directing music videos.  Everything he has done since is brilliant!  Love his look and directing style.
Irving Penn – what can you say… pure genius.  A master like no other.  He did it all and he did it great.
Burt Bacharach – such a legend.  When I was a kid I loved all his music.  I was so lucky to shoot him a few years ago.  I had a great talk about his music and his writing partner Hal David.
Danny Boyle – another great director.  He had me at Trainspotting and never let me go.
Muhammad Ali – my favorite athlete of all time.  He was and is the Greatest EVER!
Follow ME on Twitter!!!