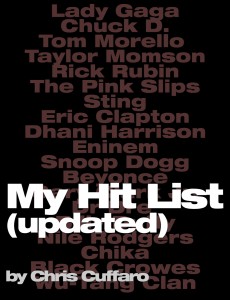 I often get asked who would I like to shoot these days?  I've had a "hit list" since the beginning of the people I would love to meet and shoot.  It's changed and evolved through the years.  Here's my latest version.  If you know anyone of these people and can you please hook me up!
Lady Gaga – I know we would have some serious fun!
Chuck D. – I've always wanted to sit & talk with him.
Tom Morello – Just wanna talk music & guitar with him.

 

Also compare Chris Cornell stories.
Kendrick Lamar – PLEASE!!!
Taylor Momson – I know I can give her some street cred & have fun doing it.
Rick Rubin – Met him back in the day.

 

Just want to get a nice portrait of this legend!
The Pink Slips – One of my favorite new bands.
Sting – For fuck sake I've shot so many musicians that played with him.

 

It's time we shoot!
Eric Clapton – Clapton is God, enough said.
Dhani Harrison – Since I shot his dad, I would love to shoot him.
Eninem – A hip hop legend and icon yo!

 

Would love to watch him create.