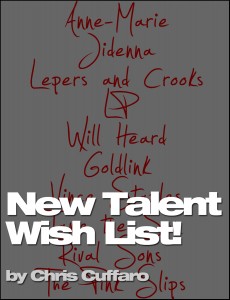 There are so many great new artist these days. They are so hard to find, but when I find them I'm blown away! Here's 10 new artist I really want to meet and shoot sooner than later. They are new to me!!!
Anne-Marie – She is pure talent! PLEASE!!!
Jidenna – He can do no wrong!
Lepers and Crooks – My favorite band!!!
LP – Fucking amazing!!!
Will Heard – I know we could make some serious photos!
Goldlink – He got style!!
Vince Staples – O.G. Yo!
Tame the Sun – Another great band from Australia.
Rival Sons – They've been around, but new for me.
The Pink Slips – Cuz I shot your mom and dad. Plus you rock!