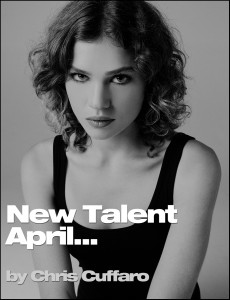 YO!  It's April 2023 and you know what that means… it's New Talent April!  No, it's not a national holiday or world wide event.  It's just my idea for having some serious fun.  I did a lot of New Talent shoots in Australia and New Zealand.  Also did more than a few last year in Los Angeles.  I want to share all my New Talent shoots from my site CuffaroPlus.com all month long!
I talk about this all the time.  I love shooting and meeting New Talent… musicians, models, bands and actors.  I just love the passion they bring to every session.  I've been a photographer for a very long time and I'm a little jaded, so working with people who are not jaded makes me smile!  It helps me to remember why I do what I love!
For the month of April I'm gonna share New Talent photos and I hope you enjoy.  You can see MORE at my website CuffaroPlus.com.  This is my site where I share ALL my NEW work.  Check it out NOW!  If yer New Talent, please let me know if you want to have fun and create some fresh photos!  I'm always up for some serious fun.