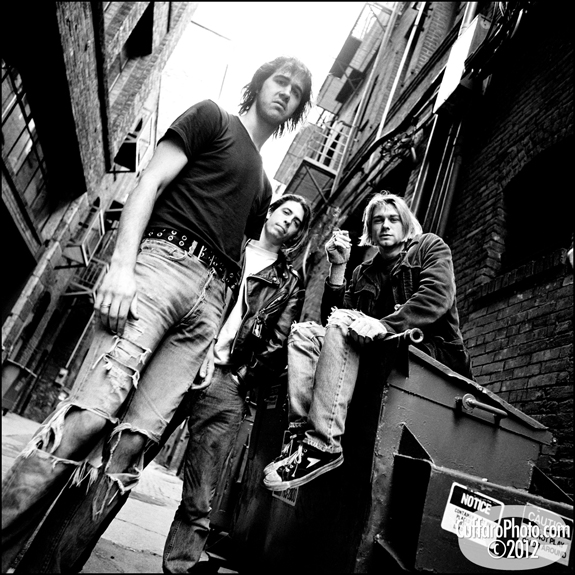 1991 Seattle- I was going up there to shoot Queensryche for EMI.  I contacted my good friend John Silva who managed Nirvana.  I told him I had some free time and wanted to know if the band had time for a free shoot!  Dave Grohl had just joined the band and they were working on Nevermind.  They gave me a couple hours and said I could do what ever I wanted.  We met at a dinner and had bit to eat before we got started, back then they were so poor I paid for lunch and they couldn't be happier!
We walked over to one of the alleys close by and just started shooting.  Kurt jumped up on the trash can to rest.  He had a long night having a bit too much fun BUT then again so did I.  Going to Seattle was always fun!  One big show and party.  I saw one of my best shows ever there.  After the shoot we all went for a drink and took care of our hangovers.
One last thing, it was this shoot where I met Kurt.  He was a gentle soul and through the years was ALWAYS nice to me.  We had many great moments and I'll always be grateful.