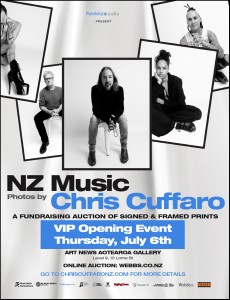 Super excited to announce that Opening Night is this Thursday the 6th in Auckland, New Zealand for Greatest Hits: NZ Music.  Super sad that I can not be there, but all my NZ friends will be.  This project was the idea of my good friend Agentx / Publicity+ with assistance from Auckland City of Music for MusicHelps!
I shot ALL the portraits while in Auckland in February of 2023 during my Greatest Hits: New Zealand exhibition.  This exhibition shows at Art News Aotearoa, Level 9, 10 Lorne Street, Auckland from Thursday 6 July – Sunday 16 July.  Admission is FREE!
The one-of-a-kind framed and signed photos will be on display for ten days in Auckland Central, and are for sale via Webb's Auction House online, with 100% of proceeds going to charity MusicHelps.
Come see Tiki Taane, Boh Runga, Muroki, Jon Toogood, Don McGlashan, Reb Fountain, Theia, Julia Deans, JessB, Hollie Smith, Tami Neilson, Fat Freddys Drop, Troy Kingi, Murray Cammick, Tali, Ben Horlock and Proteins of Magic!
The opening night event on Thursday 6 July will feature LIVE music by Ben Horlock, followed by deejay Murray Cammick.
INFORMATION HERE – ChrisCuffaroNZ.com
AUCTION HERE – Webbs.co.nz