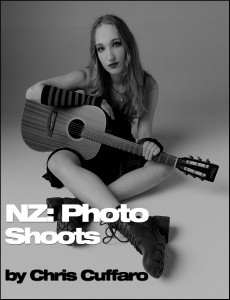 Holy FUCK!  In New Zealand I did over 20 shoots in 3 weeks.  The most I did was 4 in one day.  It was a challenge and I loved it.  I did shoots with music legends and new artists.  The craziest day was the Monday after my exhibition when cyclone Gabrielle hit!  I shot two artists when the cyclone was at it's peak.  Never thought I would do that.  Never gonna forget it.
The musicians were amazing on so many levels.  I shot Tiki Taane, Proteins of Magic, Theia, Reb Fountain, Troy Kingi and many more.  So many talented artist in New Zealand.  I also shot my new best model friend Milly Smyth and new singer Cloudy on my last work day.  Super fun to be in the studio for the day with talented and beautiful girls.  
I learned that there is so much amazing music in New Zealand.  Like GREAT music and musicians.  I'm obsessed with a couple of them and can't stop playing their music since I got home.  I suggest you do your homework and research on New Zealand music and you will hear some of the best music going on today!